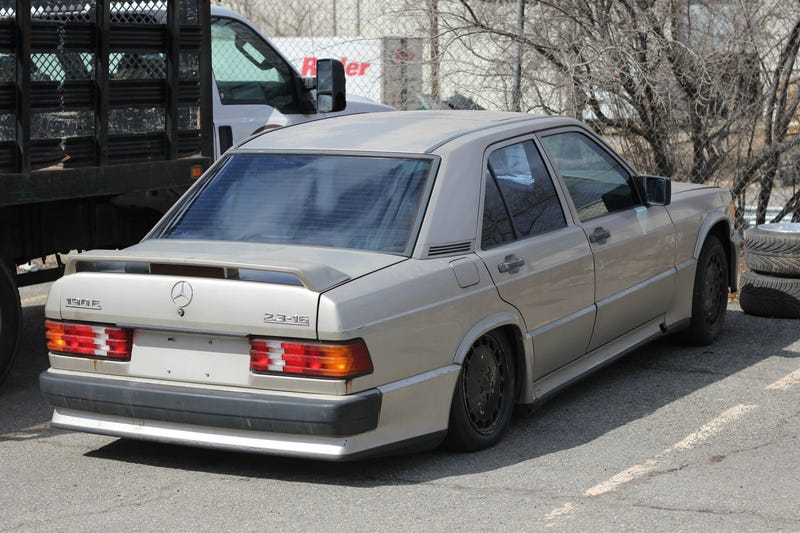 On a late January evening, sitting in my new-to-me college dorm room, I found myself once again talking cars (and stuff) with some of Oppositelock's finest, in the famed Tinychat
chatroom. Only this time was a little different. This time, I was reaching out to the best of Oppo to help me source a replacement car for my beloved bugeye WRX. I was desperate to find something that I thought might be able to fill the void that the WRX would undoubtedly create after I sold it.

We were throwing around ideas. I figured I would be able to get around $3500 tops out of my WRX, which would leave me a lot of options. For the longest time, I've craved a car that I felt could deliver a legendary experience similar to that of the E30 M3, but, of course, more obtainable. What car could possibly deliver? The obvious answer was the 16 valve Mercedes-Benz 190E Cosworth.
For those unfamiliar with it, the E30 M3 may not have existed if it weren't for the 190E Cosworth. The BMW E30 M3 was created to rival the 16v 190e in the early days of Deutsche Tourenwagen Masters (DTM), in which it did very well. Of course, the E30 M3 ended up being both a better car in the DTM series, as well as a better road car.

There are so few cars that allow the driver to capture such a pure driving spirit, that ooze motorsport from every angle. I knew I had to have one.
My friend Brian Silvestro found me the car. It was a 1987 190E 2.3-16v, for only $3600. The car was pictured with some rather unfitting 18" AMG Monobloc wheels, and seemed to be decently clean overall. The ad read that the car had a blown motor, but under the hood would come a recently gone through block with internals and a freshly refinished head.

It appeared to be a simple job. Seat the head correctly, get the timing right, not much else to it. I figured that even if I didn't the work myself, with the help of my Project Car friends, I wouldn't have to spend much to get it in working order. Then I set up a time to look at the car in person.
I had arranged to look at the car at night. Generally, I would bring my project car partner Mathias along on any adventures like this, but at this time, he had been crossing the United States in his 1999 Mercedes Benz ML320, and I was out of luck.
I was attempting to do a straight trade, my WRX for the Cosworth, but the seller was uninterested due to the light body damage and high miles. The seller was a used car dealer (read: stealership) and was fully aware it would be a bit of a trial, flipping the WRX to a normal consumer. Which was fair. I took him around the block in the WRX, but not even the sweet, sweet, unequal length header burble could persuade him.
I then took to the 190E. It was obvious the car needed work, and a lot of it. The interior was filled with parts, some that belonged to the car, some that did not. The gauge cluster was out, interior trim pieces were missing, it was a mess.
The car was covered in about three inches of snow which the seller brushed off with a broom. That didn't matter though, because the exterior was already showing signs of age. Minor pen sized dents, rough paint with a a decaying clear coat, and some minor body rust. If you look at my current car history, I'm not really one for aesthetics, so none of this bothered me. We then opened the hood...
The external hood release was broken so the hood could only be opened by fingering a strategically placed hole in the grill. Once the hood opened, it unveiled a disaster. Loose wiring harness, scrambled hydraulic lines and a dangling hydraulic pump, an engine with obvious interference damage across all pistons (head nowhere to be seen), and hard CIS fuel lines pushed to the side. That was all from first glance.
I closed the hood, took a step back, and began eying the car. Could I see myself in this? Is this a project I could take on? These were my thoughts as I walked around the car. I began questioning the seller about the status of the motor. He assured me that he would be putting the clean block in the car as soon as the he could get a warm enough day, and that the clean head was at the machine shop ready to be picked up, as he didn't want the head being exposed to the winter conditions outside, or sitting around waiting for the good block to be dropped. He also explained the possibility of getting the car towed to a local friend's shop, where he may have the opportunity to work on the car. Either way, the loose wires and fuel lines didn't scare me so much, as I knew that wasn't an uncommon sight under the hood of a car with a pulled motor.

With a final walk around of the car, I noticed the brake rotors had severe surface rust, and that the car was missing a front right sway bar bushing. The seller told me the car had only been sitting since Thanksgiving 2014, which seemed reasonable, and that the car would be coming with polyeurathane sway bar bushings as replacement. Good enough for me. After one final walk around, we agreed to be in contact and I took off in the WRX.
When I returned to my college campus later that evening, I continued research on the 190E. I couldn't find a running five speed Cosworth for under $5000, that didn't already need a full engine rebuild. Most were priced about $6500 with rough body but decent mechanics, to over $15000 for "show condition". I couldn't see how I could go wrong, paying $3600 for a car that couldn't need more than $2000 in work, that could easily get returned. It seemed like a no brainer. Generally, I don't like to look at the cars I buy as investments, but to me, the Mercedes Benz 190E 2.3-16v seemed like a car with untapped potential, and an untapped market.

After meeting with the seller again and confirming the details of the transaction, he promised to drop the good block in the car and to have the car ready and running for me once I would be able to deliver the full payment. He only asked that I pay an additional $600, for what he said would be going toward the head gasket, head bolts, and paying the machine shop for the the head. I had thought that the refinished head was to be included in the $3600, but I figured that this additional $600 to get the car in working order would be no hassle, as it would be less than what I would shell out to any shop to finish the repairs.

I paid the seller in increments. I felt inclined to give the seller some cash toward the purchase price, before he would finish the job so he knew that I was serious about purchasing the car. He had told me all the parts were ready for pickup, but he was just waiting on a clear, warmer day to get the job completed. I made it clear to him that to finish payment, I would have to sell my WRX and my Porsche 944 (god rest its soul), and at that time, I would need a running car.

As days past, the car remained in his lot untouched, and the parts were never gotten. I don't know if he ever truly intended on helping me out or not, but I didn't feel comfortable leaving the car sitting in a lot I didn't even have access to. Soon after I sold my WRX and the 944, I had delivered full payment to the seller, and he handed over the clean title. I would try to provoke the seller over text to possibly get some work done on the car, but any time I questioned his ethics, he tried to remind me that he was doing me the favor, and he didn't want to cause any harm to himself by working outside in the cold. At this time he also informed me that any chance of getting the car down to his local friend's shop was out of the question. I was out of a car and out of $4200.
I decided I didn't want to wait for spring to come for a running car, so I worked with the seller to arrange a tow from his lot to my lot, 25 miles south of where the car had been sitting. I began contacting local Mercedes specialists and friends that I thought might be able to help me get the project along. I knew Mathias and I would probably be able to pull the old block and drop the good one by ourselves, if we could borrow an engine hoist from a friend. But I still had not received the head or head gasket parts I paid for.
For those unfamiliar with these cars, they are called the 190E Cosworth because Cosworth, a well known British engine building company, redesigned the motor for optimal efficiency and performance. Only most of the work and engineering they had a part in, was with the head of the motor. The block and core internals were still true to the standard Mercedes Benz M102 motor used in the eight valve 190E's and other Mercedes' from that time period. So I had a Mercedes-Benz 190E 2.3-16v Cosworth, without the 16 valves or the Cosworth. Great.
Soon after it became obvious that the seller lost interest in helping me or completing his end of the deal, the thought of continuing on with the 190E project seemed nightmarish. Not only would it cost me time and money, which were both things I didn't have, I also began to lose interest. I went into this car with the hopes of driving it off the lot at $4200, but it didn't happen.
It wasn't until March that I decided to cut my losses and quit while I was ahead. Because of lack of support from those around me and lack of interest on my part, I decided it would be best to sell the car. This car may have been nothing more than a road block for me in my path to become a better driver, which is something I hope to accomplish with all my cars. However, it awarded me with a well needed car buying experience.

Owning a project car, especially one that seems as far gone as this 190E, requires devotion, skill, time, and money. You can buy a car like this, send it to your favorite mechanic to fix everything, pick up the tag when it's all over and hope for the best. Or, you can work slowly, step by step, with the help of your friends and those around you, to try and build it up to what you want the project car to be. Unfortunately, I learned the hard way that this type of project car wasn't for me. If I had a running car that I could drive, while simultaneously being able to work on the 190E when I had the time, the situation may have been different. Hopefully one day, before the prices on these really jump, I'll be able to experience a proper example of a Mercedes Benz 190E 2.3-16V.
If you're interested in the 190E, it is still available, listed on Craigslist and BenzWorld.

Photo credit: Aaron Brown

---
Follow Aaron's shenanigans through Twitter and Instagram, and no, he doesn't actually have all those followers.